Thinking into Character (TiC) and The Power of Learning from DAD are both transformational learning programmes created by Dr. Selva Pankaj, CEO and Co-Founder, Regent Group.
Both are designed to aid your personal growth and accelerate your professional success. Whether you know it yet, you have the potential to improve your results exponentially, whether that is by getting a promotion, starting a business or enjoying more fulfilling personal relationships. These programmes will show you how these leaps in success are possible. Are you ready to make the leap?
Thinking into Character (TiC) Products
The Power of Learning from DAD Products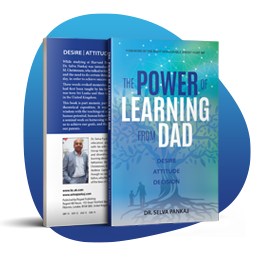 This book is part memoir, part self-reflection and part theoretical exposition. It combines paternal wisdom with the teachings of many eminent authors on human potential, human behaviour and success.
Who are these programmes for?
Build confidence and character
Be happy and successful
Eliminate negative non-productive habits/thoughts and replace with positive ones
Identify and achieve your BIG goals
Overcome anxieties and negative self-image
Attain new or better grades and qualifications
Develop a strong sense of self-belief, resilience and persistence
Be accepted at your preferred university or further education institution, pursue an apprenticeship or become an entrepreneur
Build a successful career in your dream company or industry
The main benefits of these programmes include:
Learning how to
identify, set and achieve
inspiring goals
Improving self-image
and re-writing your life
script
Learning how to close the gap between what you know you should do and what you actually do
Grasping how to turn
non-productive habits
into productive habits
Overcoming
challenges and
barriers to success
Developing
leadership
qualities