The Power of Learning from DAD
Desire. Attitude. Decision.
BY DR. SELVA PANKAJ
While studying at Harvard Business School in 2016, Dr Selva Pankaj was introduced to Professor Clayton M. Christensen, who talked to him about the laws of nature and the need to do certain things in a certain way, every day, in order to achieve success.
These words evoked memories of the lessons that Selva had first been taught by his late father, growing up in war-torn Sri Lanka and then later building his success in the United Kingdom.
This book is part memoir, part self-reflection and part theoretical exposition. It warmly combines paternal wisdom with the teachings of many eminent authors on human potential, human behaviour and success, creating a seminal work on harnessing the powers we have within us to achieve our goals, and the power of learning from our parents.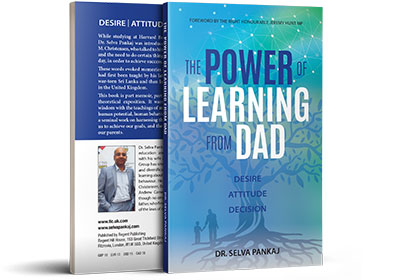 "Not only does this book make a powerful case for the impact desire, attitude and decision making can have on your life but it is a first-hand account of how to put those ideas into practice."
The Right Honourable Jeremy Hunt MP
Are you ready to accelerate your success?
The Power of Learning from DAD is a book that will:
Provide insights that you can use now to increase your success exponentially
Explain why the secret of success is to be found in your mindset
Set out the life story of refugee turned multi-millionaire, Dr. Selva Pankaj, from which you will learn how to raise your game and move to the next level with limited external resources
More about The Power of Learning from DAD book
The Power of Learning from DAD disseminates important principles of personal success and self-fulfilment, busting the myth that success begins with a hefty inheritance and friends in the right places. Dr. Selva Pankaj arrived in the UK as a refugee with limited resources, now an entrepreneur and proprietor of a multimillion-pound education and real-estate business, we learn from his story that success is, at root, a mindset. Success is a way of thinking.
The Power of Learning from DAD develops the idea that success is rooting in a way of thinking and is available to anyone who studies and adopts the mindset of successful individuals. Using as a starting point insight gleamed from his late father, Dr. Selva Pankaj interweaves principles put forward by the most influential thinkers on personal development, including Napoleon Hill, James Allen and Earl Nightingale.
With a foreword by The Right Honourable Jeremy Hunt MP, this book will present a new perspective on success creation that will transform your thinking, remove limiting self-beliefs, increase your confidence and empower you to achieve life-changing goals.
Discussions include:
An explanation of the importance of desire, and how to turn your desire into material success
An explanation of the principles of influence, and strategies you can use to widen your circle of influence
The principles of personal leadership and how personal leadership forms the foundation for success in industry and business.
An understanding of the power of the mastermind, and how to improve your creativity and your results by invoking the power of a network of agile and creative thinkers
The power of imagination, developing both intuition and creativity while setting meaningful goals
The principle of effective planning, including strategies for prioritising goals and scheduling your week.
The laws of thought and the laws of nature as outlined by the late Prof. Christensen Claytonson (Harvard Business School) and how these laws can be used to accelerate your success.